The coloring book craze has been going on for quite a while. Lately with adult coloring books, but the kids never stopped either. Coloring books are fun to make and sell. I have made quite a few different kinds from mandala, to geography, kids, A-Z, all kinds.


There are many different kinds of coloring books that you can make. all kinds children's, adult, images, activities, mandala, secret gardens. All kinds. In this course I will teach you how to make your own coloring books and sell them on Amazon. To get you started on the fast track I have put together something kind of cool. Templates. I have created full 80 page, 8.5" x 11" plus the cover templates in Adobe InDesign, Illustrator and MS PowerPoint. The books are ready to go. Download the templates, add your art, layout the cover and publish.
Full 80 Page 8.5" x 11" Page and Cover Coloring Book Templates
InDesign • Illustrator • PowerPoint
NEW Size: 8.5" x 8.5" 80 page plus cover template just added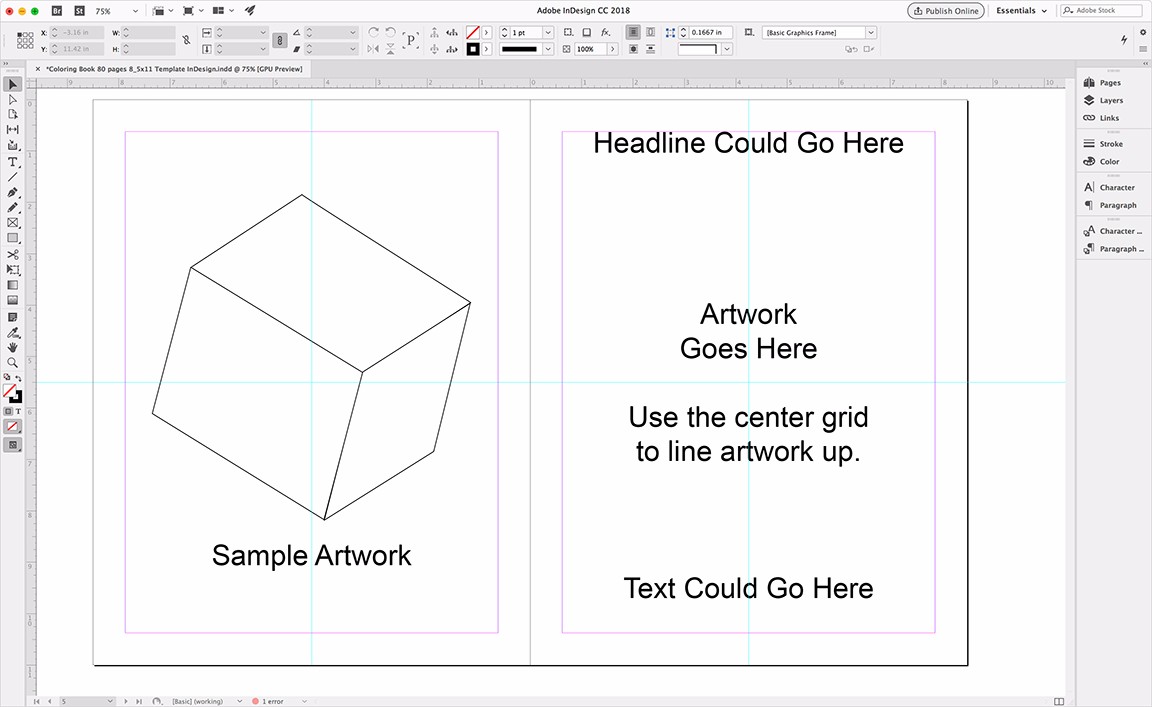 This course is one of the best investments I have made in my publishing career in the past year of searching many courses. – Rebecca H.
I get lots of requests to make a coloring book course. In the past I have taken students through the construction of making their books. Starting at opening up InDesign or PowerPoint. Go to Page Set Up, select a size, some pages, the margins, columns, etc. Figure out how to set the book up. It confused and delayed people from starting their books. Then I had the grand idea, why am I doing this. It is to confusing, it just doesn't work. So I thought why do you need to do this? When in reality you just want to start adding art to your books and get going. Why don't I release a full ready make book? Like a template. So that is what I have done.
You now have full Indesign, Illustrator and PowerPoint book and cover templates. Just open, customize a little, add your illustrations, update the cover template and publish. Super easy. I am super excited, this is solving a huge problem I have had in training people how to set up coloring books. Also remember a picture book is just a coloring book that you don't color, same with a children's book, these templates work for all. Open, add art and publish.
Contained in the Course
Adobe Indesign, Illustrator and PowerPoint Templates
Open, load artwork and publish.
Book templates for, 8.5" x 11" for InDesign, Adobe Illustrator and PowerPoint. Each includes 80 pages book all set up, ready to go, open, add art. Each book template has margins and guides. Title page, legal page, some basic instructions. Page templates designed for black/white, 300dpi artwork.
Also included are cover templates for each book in InDesign, Illustrator and PowerPoint. The templates are designed for 80 pages. Back cover, spine and front cover and bleeds all around. But you can easily adjust for any number of pages.
InDesign Training Video for Pages and Cover Template Included.
Illustrator and PowerPoint coming shortly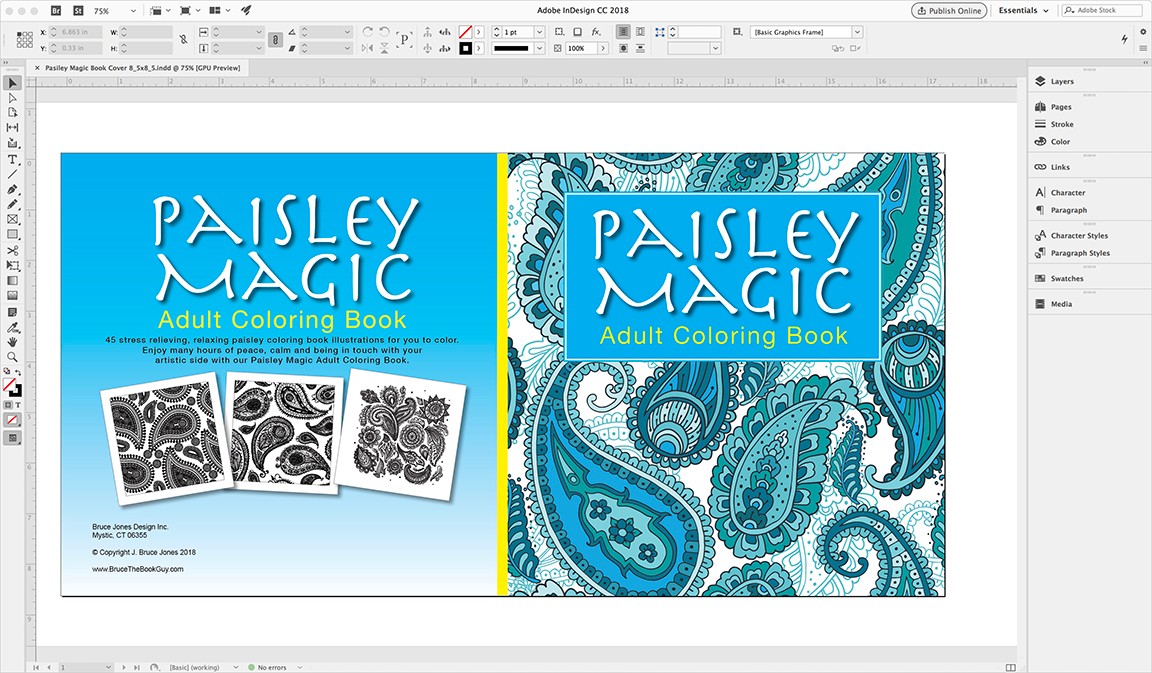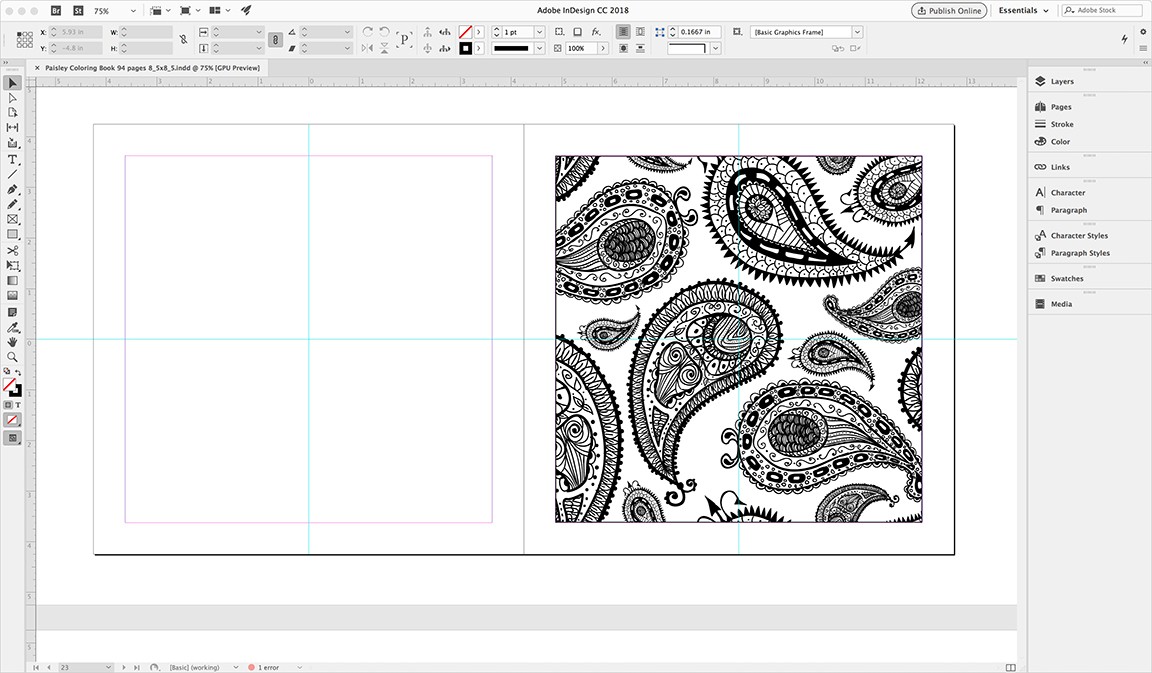 I have also put together a series of videos on building a coloring book from start to published finish using InDesign. I take you through how to put together the Paisley Magic Adult Coloring Book for finding the art to setting up the InDesign template, loading artwork, building the cover and uploading your pdf files to CreateSpace/Amazon for publishing
Sample video lesson on where to find your art and how to start thinking about your color book design.