Hi All, I am in the process of a major update of the Easy Picture Book Course
All new training, starting with this training on Monday, Nov 5th at 1:00PM EST
Come and join the How to Publish Your Book Facebook Group to watch live
https://www.facebook.com/groups/HowToPublishYourBo...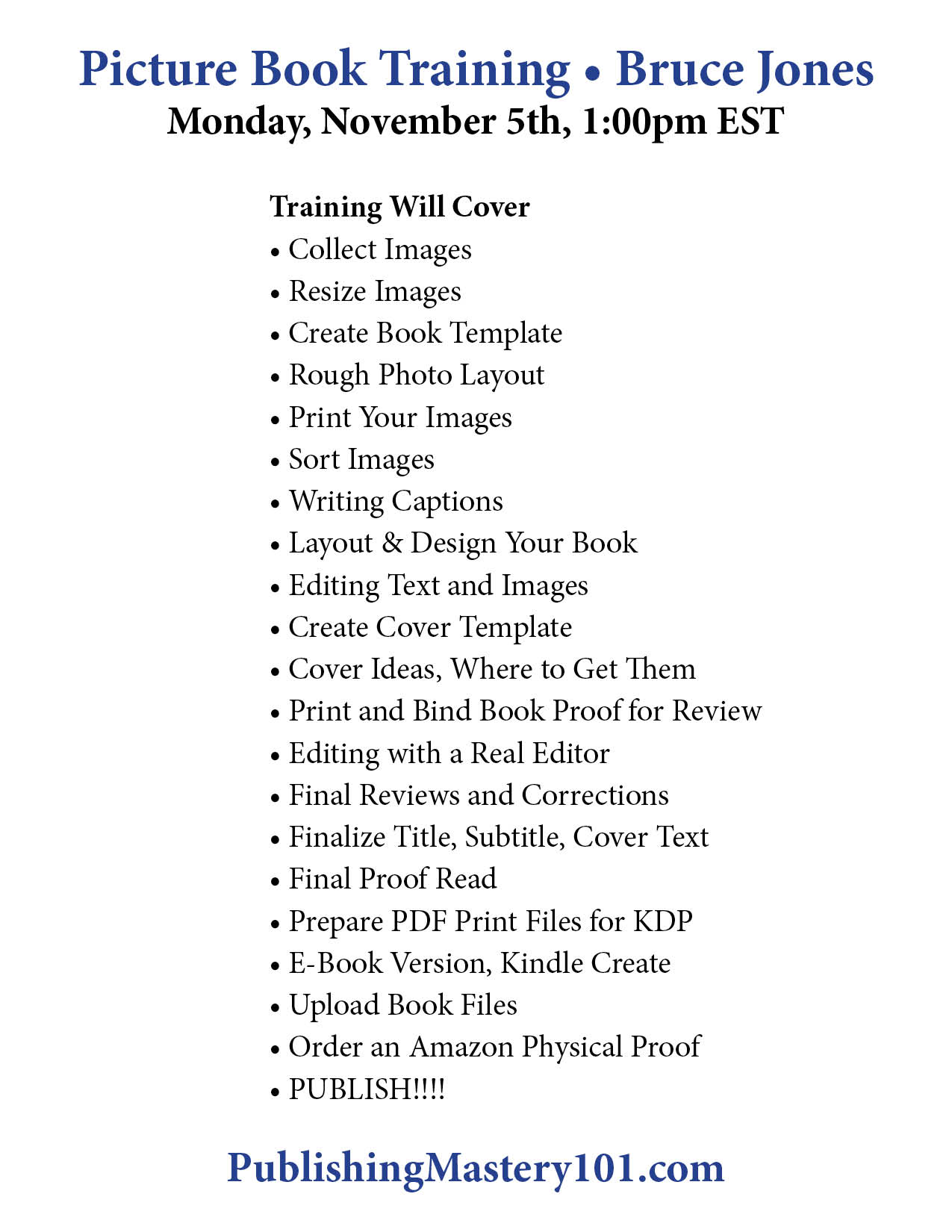 Hi I am J. Bruce Jones the author and creator of over 40 books including over 10 books for kids. In this online course I take you through the process of how I recently produced the 5 children's picture book series "Animals Love to Play". Learn the secrets to producing your own children's book and selling them on Amazon Kindle. Following along as I show you how it is done. Each video takes you through the essential steps that you will need to create your own Kindle books.

I had a wonderful email today from Nikk Robinson on her new book and how she used my video on making children's books to help create her new book The Tortoise and the Hairball. Thank you very much Nikk
Thanks to your Youtube video, I was able to format my children's picture book using PowerPoint. Your instruction made Kindle publishing way more accessible to me. I'm happy to announce that I recently published my first children's ebook on Amazon. It's available for free download today and on May 19-22. If you're interested in checking it out, I'm happy to send you a copy any time. More info below my signature.
I joined your Facebook group today. I'm very excited to be in your community
With gratitude, Nikk Robinson


The Quick Start Video
The course starts with a quick start video called Making a Children's Book. The quick start video shows you how to make a children's book using PowerPoint. It gives you everything you need to get started from the idea to a live Kindle book on Amazon. The opening video gives you the overview of the entire book making process.
I Break the Book Process Down in More Detail

Video 1. Learn how I wrote and selected the images for my books, with tips on how to buy affordable images

Video 2. I take you through the Design and Layout of a picture book
Video 3. Learn how to use Kindle Kid and Comic Creator to convert your picture book to Mobi format ready for uploading to Kindle

Video 4. Step-by-step how to upload your book to Amazon Kindle
Video 5. This is the marketing video. Learn essential tips to getting exposure, making a book trailer video, marketing graphics, using Pinterest

Video 6. Having a home on the web for your book is essential. Learn how to build a book/author blog in this step-by-step video. Part 1
Video 7. Second half of the How to set up your book blog, some more advance tips. Part 2
Included with this course are pdf transcriptions of the course videos
Course Bonuses:

A pdf copy of my book How to Publish Your Book, A Beginners Guide, includes publishing resources guide

10 Tips for Marketing Your Book Video plus companion pdf
The videos for this course stream to your computer so you can watch, the pdfs download for you to keep.
Join the conversation on my Facebook Group, How to Publish Your Book," easy place to engage, ask questions and show us your progress, https://www.facebook.com/groups/HowToPublishYourBo...